Taiwan Sotheby's International Realty | $31,250,000 (USD), 919.2 M (NTD) | Taipei, Taiwan
This well-designed building is constructed with steel reinforced concrete construction. A 12-meter distance from the road provides a more tranquil atmosphere and a higher level of privacy. Set in the middle of the prestigious Far East Commercial District in Taipei, the primary location across the famous Far East Plaza offers the architecture a significant view of the splendid Dunhua South Road area and also allows a wide range of convenience in both transportation and daily facilities. The building's elegant external design follows a high aesthetic standard and aims at resembling artistic museums, featuring gorgeous and carefully-selected granite facade on all four sides.
---
Coast al Sotheby's International Realty | $11,500,000 | Florida, USA
Villa Amante del Baile, a graceful, historic oceanfront estate, is located just three blocks from the world famous restaurants and shopping of Worth Avenue on the exclusive island of Palm Beach. Recalling the golden days of prestigious Palm Beach, Villa Amante del Baile was designed and built by world-renowned architect, Maurice Fatio. Inspired by centuries-old Mediterranean architecture, Fatio set this tropical oasis overlooking the expansive Atlantic Ocean with spectacular, panoramic ocean views from all three levels. This oceanfront estate boasts more than 9,000 square feet and includes front door deeded beach access. The interior features five bedrooms, seven full baths and two half baths.
---
Sotheby's International Realty-Palm Beach Brokerage | $9,000,000 | Florida, USA
One of the finest waterfront estates ever constructed on Palm Beach's Hypoluxo Island Point Manalapan, the property is more than 17,000 square feet of luxurious accommodations with eight bedrooms, nine baths, four half baths, home theatre, gymnasium, paneled his and her offices, games arcade, billiard room with bar, commercial sized elevator and guest apartment.
---
Sotheby's International Realty-East Side Manhattan Brokerage | $8,100,000 | New York, USA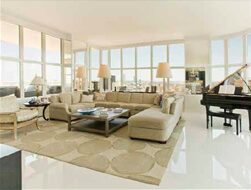 This full-floor penthouse was designed by renowned architect Philip Johnson and is located in the much sought after Carnegie Hill. This one-of-a-kind penthouse offers soaring ceilings and incredible views of Central Park and the Manhattan skyline. The apartment features eight rooms plus an extraordinary terrace for grand entertaining. The home has its own private elevator hall, grand foyer and gallery, a huge living room, adjacent dining room and sophisticated Seimatic kitchen. The lavish master suite has an enormous bathroom with infinity tub, separate shower and huge walk-in closet. There are three spacious guest bedrooms each with en suite baths, a laundry room and powder room.
---
One Sotheby's International Realty | $7,000,000 | Florida, USA
This exquisite estate is situated on more than an acre in the prestigious community of Gables Estates. Recently remodeled, this 8,500 square foot residence boasts five bedrooms, six-and-a-half bathrooms, formal living room with more than 25 foot ceilings, oversized formal dining room, home theater, pool with game room and gym with sauna. There is a resort-like pool area, gazebo with summer kitchen and large terrace ideal for entertaining.
---
Julia B. Fee Sotheby's International Realty | $6,850,000 | New York, USA
One of the most glorious properties in Scarsdale, this classic residence is situated on 5.31 acres in the Heathcote Estate area. There are expansive fields of green with mature trees and total privacy. As well, there is a tennis court and room for a swimming pool.
---
Premier Sotheby's International Realty | $6,750,000 | Florida, USA
This extraordinary corner penthouse is in the north building of L'Ambiance. The unit takes full advantage of the spectacular sights, each window framing postcard images of the panoramic views from sunrise to sunset. The four bedroom suites and office have floor coverings from Custom Sisal to Flat Wool. The huge expanses of glass, coupled with the unit's three skylights allow for an abundance of natural light. This outstanding beach front residence offers more than 5,100 square feet of luxury living, 14-foot ceilings and 2,400 square feet of wrap-around terraces.
---
Taiwan Sotheby's International Realty | $6,600,000 | Taipei, Taiwan
Occupying a commanding location overlooking the Xinyi Development district, the property has views of Yangmingshan Mountain during the daytime and metropolitan views during nighttime.
---
Sotheby's International Realty-San Francisco Brokerage | $6,500,000 | California, USA
This three-level, corner penthouse unit has incredible views of the San Francisco Bay and Alcatraz. The open floor plan at the top level offers views almost everywhere. This home boasts wood-burning fireplaces in the living room and master suite, hardwood floors, decks, sauna, spa and a large entertainment area.
---
Sotheby's International Realty-Beverly Hills Brokerage | $6,495,000 | California, USA
This stunning, contemporary home is nestled behind gates in lower Bel Air and features wall of glass, indoor/outdoor living and privacy. All rooms face the pool and have views of the city.
---
Gibson Sotheby's International Realty | $6,300,000 | Massachusetts , USA
This front-facing, 9th floor home is at the Mandarin. With a corner exposed living room that has floor-to-ceiling windows, the home has two Juliet balconies and views of Back Bay and downtown. There are double-sided gas fireplaces and a large formal dining room with front facing views. A private media room/study has custom built-ins and pocket doors to a formal living room.
---
Gibson Sotheby's International Realty | $6,250,000 | Massachusetts , USA
Located on Beacon Hill and overlooking Boston Common, this sun-drenched home has four bedroom suites plus study, grand formal living room, chic formal dining, marble eat-in kitchen and oversized maple paneled family room with wet bar. The master bedroom has one of four gas fireplaces and ensuite marble bath.
---
Sotheby's International Realty-San Francisco Brokerage | $6,250,000 | California, USA
With four levels, this fully detached home has panoramic windows, skylights and a three-story stairwell atrium. There are tall ceilings and doorways, and the landscaped garden comprises an entire city lot, wwproviding a private and spacious retreat.
---
Other noteworthy sales from around the world…
Aspen Snowmass Sotheby's International Realty | $6,050,000 | Colorado, USA
Sotheby's International Realty-East Side Manhattan Brokerage | $6,000,000 | New York, USA
Briggs Freeman Sotheby's International Realty | $6,000,000 | Texas, USA
Sotheby's International Realty-San Francisco Brokerage | $6,000,000 | California, USA
Sotheby's International Realty-Bridgehampton Brokerage | $5,750,000 | New York, USA
Russell Post Sotheby's International Realty | $5,700,000 | Florida, USA
Pacific Sotheby's International Realty | $5,650,000 | California, USA
Decker Bullock Sotheby's International Realty | $5,625,000 | California, USA
Kuper Sotheby's International Realty | $5,425,759.50 | Texas, USA
Sotheby's International Realty-Sunset Strip Brokerage | $5,200,000 | California, USA
Aspen Snowmass Sotheby's International Realty | $5,180,000, | Colorado, USA
Sotheby's International Realty-San Francisco Brokerage | $5,125,000 | California, USA
Premier Sotheby's International Realty | $5,100,000 | Florida, USA
Sotheby's International Realty-Montecito-Coast Village Road Brokerage | $5,000,000 | California, USA
Sotheby's International Realty-Beverly Hills Brokerage | $4,900,000 | California, USA